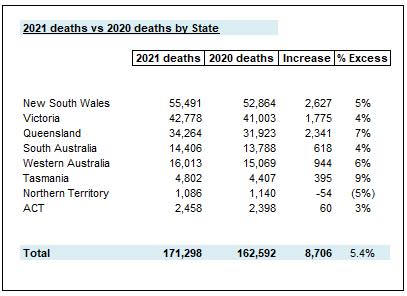 The mainstream media are peddling misinformation around excess deaths blaming it on Covid.
They can easily confuse the issue for 2022 as Covid was in the community that year. (Despite almost everybody being vaccinated.)
That however wasn't the case in 2021 when the smaller states had virtually no cases of Covid. Yet despite this, deaths jumped 5.4% from the year before for the country.
This increase happened from May onwards one month after the start of the vaccine rollout. (See figures in the ABS download below)
What's significant however is that the smaller states had a higher jump in deaths even though they had no Covid.
The only variable to explain that was the vaccine rollout. NSW and Victoria would have been higher had it not been for the draconian lockdowns in those states.
The argument about lockdowns delaying deaths is true but not as much as the jump in excess deaths. Deaths dropped nationally by 2,000 in 2020 but jumped by 8,706 in 2021.
The data is sourced from the ABS mortality figures.
Download available at: 
https://www.abs.gov.au/statistics/health/causes-death/provisional-mortality-statistics/jan-sep-2022/Deaths%20by%20month%20of%20occurrence%2C%202015-21.xlsx